"Remarkable" is the word Alternative Press used to described Joy Electric, a stand-out new wave band for the nineties nestled right in the heart of punk rock Orange County. "What could be more punk rock than doing new wave in the land of Offsprings and Social D's" says Ronnie Martin, the band's main creative force.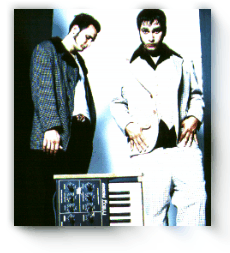 Formed nearly four years ago, Joy Electric assaulted the electronica world long before Prodigy and the Chemical Brothers broke-out and Depeche Mode and Echo and the Bunnymen re-emerged. With two LPs and two EPs already out on Tooth and Nail Records, Joy Electric is about to release their third full-length record, Robot Rock, with some of the band's most commercial songs to date.
Robot Rock's ten songs are a synthesized interpretation of how Joy Electric sees rock and roll. Martin remarks, "Something can be rocking without two guitar players. I got a lot more beefy-ness and harder sounds on the keyboard, while all the time keeping it pure pop."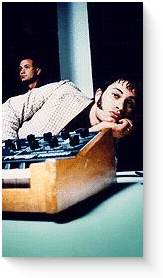 To capture a thicker synthesized sound, Martin and band member Jeff Cloud went on the search for the best instrument. What they found was an old Roland Modular Analog Synthesizer. Martin explains, "This is the first synthesizer Roland ever made. I found one in Australia and had the guy ship it to me. This is a true synthesizer. It's not digital, so it doesn't have that sterile, assembly line sound. It has a classic keyboard sound. It's the kind of equipment Tangerine Dream and Human League would have used. Well, we recorded everything, drums and high-hats included, on this synthesizer."
As far as the songwriting, Martin and Cloud kept it as short and to-the-point as possible. There are no long intros, long middles, long extros...This is no-nonsense Joy Electric with every chorus sounding like the anthem of the year. They even recruited the help of long time friend and musician Michael Knott to produce the type of rock-style vocals Martin wanted over the electronic-pop musical cascade. The result is songs like "Sugar Rush," a superfast, hyper-pop song in the interpreted spirit of the Ramones and Green Day, and the fun, novelty electronic-rocker Monosynth, with its big, fat synthesizer riff running throughout the entire song. No wonder Seconds magazine called Joy Electric "high-tech bliss" before rooting "We are the robots!"
Joy Electric, who have done two tours already this year, plans a third tour this fall following the release of Robot Rock. Martin remark, "I can't wait to tour again because we designed the songs so that we can be full-energy on stage. Even though it's all electronic-based, I still want people to see us and think punk rock."
As much as they hold to classic synth, Joy Electric thankfully doesn't abandon the reckless, free-spirit of the Orange County music scene. Obviously Magnet magazine called it right when they said Joy Electric "...brings a smile both to your face and your feet."
Taken from the BEC Recordings Homepage